These pasalubong items showcase the history, culture, and traditions of Iloilo.
---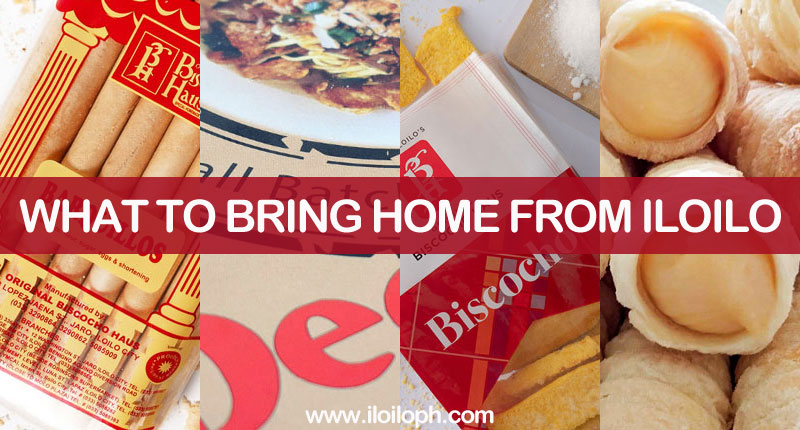 "Pasalubong" is a Filipino tradition in which travelers bring back souvenirs or gifts for their loved ones from their journeys. More than just the act of bringing gifts back home, pasalubong is a tangible expression of love and the desire to share one's travel experiences with family and friends.
In Iloilo, this tradition takes on a special meaning as it offers a taste of the region's distinctive flavors and craftsmanship. In this article, we'll embark on a delightful journey through Iloilo's pasalubong treasures, showcasing the items that make this province a true gem for souvenir hunters and food enthusiasts.
Biscocho
Iloilo is known for its delectable baked goods, particularly biscocho, a toasted sliced bread known for being crispy and crunchy. It comes in different variations, the most popular is the one coated with butter and sugar before toasting. It also comes in plain, perfect for those who need to control their sugar intake. The ground plain variant is also used to thicken sauces and soups. Other variants include garlic biscocho and cinnamon sugar.
Biscocho can be eaten solo for snacks, as dessert toppings, or partnered with coffee, tea, or hot chocolate. The most famous brands of biscocho in Iloilo include Original Biscocho Haus and Wewin's.
Barquillos
Barquillos are wafer rolls known for their delightful crunch and sweet flavor. This favorite Ilonggo treat comes in different variants including ube (purple yam), chocolate, and barquiron (barquillos filled with polvoron and crushed nuts). Like biscocho, barquillos can be eaten solo for snacks, as dessert toppings (especially ice cream and halohalo), or partnered with coffee, tea, or hot chocolate.
Original Biscocho Haus is known for their barquillos as well.
JD Bakeshop Baked Goods
JD is a homegrown bakeshop in Iloilo. While the Revel bar is one of their most-sought after products, they have several other delectable goods including chocolate chewies, butter chewies, choco fudge, buko royale, chocolate chip cookies, and so many others. Just get inside a JD Bakeshop and you'll understand why it is almost every Ilonggo's favorite bakeshop.
While at it, you may want to try their fried chicken-macaroni salad-rice combo as well as cakes, too.
Roberto's Siopao
Its facade may look very simple and unassuming but Roberto's has the best siopao in the region. Content creator Erwan Heussaff even named it as the best siopao in the country.
Roberto's siopao comes in four variants – regular, jumbo, king, and queen. The latter being bigger, the most south-after, and priced higher than the others. It contains Chinese sausage, bacon, chicken-pork adobo, and egg. The king variant is smaller and contains all the ingredients the queen has except bacon which is replaced with ham instead. Jumbo siopao only contains Chinese sausage, chicken-pork adobo, and egg while the regular variant only has pork adobo and egg.
Located in downtown Iloilo, Roberto's is one of the oldest restaurants in the city and one of the most popular too. Rarely you can order food in Roberto's without the long queue.
Batchoy
While there are batchoyan in other parts of the country, it truly is satisfying to bring home a batchoy from the region where it originated from. It can be a challenge to pack and carry but fortunately, Deco's came up with batchoy kits that ensures the quality of the dish despite being transported.
READ MORE | Where to Eat the Best Batchoy in Iloilo
Butterscotch
Butterscotch is known for its delectable buttery goodness and nutty crunch. Aside from the classic variant others include cashew, mango, almonds, dates, choco oats, and many others. Popular names include Rgies, Original Biscocho Haus, and Trappist (based in Guimaras but their products are widely available in Iloilo).
Cream Horn
Cream horn became popular in Iloilo only around the early 2000's. This horn-shaped delicacy filled with custard is known for its crunchy pastry cone and sweet and milky filling. Aside from the original variant which is the custard cream, it now comes in other variants including chocolate, ube, buko pandan, and mango.
The most famous brand of cream horn is Margec's, now called The Original Cream Horn Iloilo.
Hablon
Hablon is a traditional handwoven fabric made using a handloom using various natural materials particularly abaca, cotton, and piña. Its high quality, in addition to intricate design and artistic color combination attract not only local buyers but international design and high fashion industry as well.
Hablon fabric can be used to make gowns, barong, filipiniana, shawls, sashes, and scarves.
Iloilo's pasalubong items offer a delightful blend of flavors, history, and culture, making them perfect mementos of your journey through this heritage-rich city. Whether you're drawn to sweet treats like biscocho or you prefer to bring home woven products, Iloilo has something to cater to every traveler's tastes and preferences. These pasalubong treasures provide a tangible connection to the heart and soul of Iloilo, allowing you to share the magic of this region with your loved ones back home. So, the next time you explore Iloilo, don't forget to pick up these exceptional pasalubong items that are bound to delight and leave a lasting impression.
Iloilo's Pasalubong Treasures: What to Bring Home from Iloilo