Includes step-by-step instruction on how to travel to Iloilo from Manila (and vice versa) and 2023 plane, ferry and bus schedules and fare.
---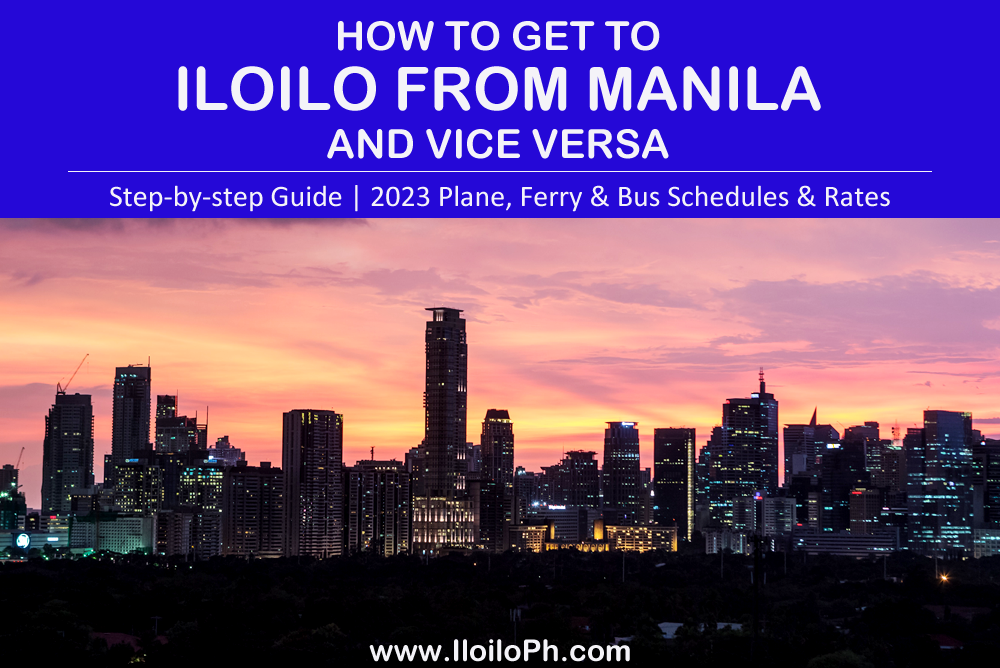 There is more than one way to get to Iloilo from Manila. Depending on your budget, schedule and goals, here are your travel options.
Detailed Travel Guide
---
---
---
---
Manila to Iloilo
By Airplane
Major commercial airlines, particularly Philippine Airlines and Cebu Pacific, have multiple flights per day from Manila to Iloilo. You can book through the airlines' official website, third-party booking platforms or several ticketing outlets found in malls and business centers. To avail cheaper flights, consider booking early or watch out for airline promos. See the plane schedule below.
On the day of your flight, arrive at the airport two to three hours before your flight to allow ample time for check-in, security screening and other pre-flight procedures. For PAL passengers, proceed to NAIA Terminal 2 while Cebu Pacific passengers depart from Terminal 3.


Ready your travel documents (valid ID or passport and airline booking) and proceed to your check-in counter to check-in. Your boarding pass will be provided to you once you check-in. You can also check-in online via the airline's official website.

Find your gate and wait for boarding. Travel time from Manila to Iloilo is approximately 1 hour and 30 minutes.


From Iloilo International Airport, you can proceed to your next destination by taxi, shared van, Grab or other transportation outside the terminal. Taxi ride from the airport to Iloilo City costs between P500 to P600 while a shared van costs P100 per person. The van will take you to SM City Iloilo or can drop you to your destination if it's along the way.

Take note that Iloilo International Airport is located outside the city, about 30 minutes from Iloilo City.
---
By Ferry
You can travel directly to Iloilo Via 2GoTravel.
Book a ferry via 2GoTravel's official website. You can also book via ticketing outlets or third-party booking platforms like 12Go. Booking hours before the trip is possible but it is best to book in advance to secure the preferred type of accommodation/seat. See below for transportation information and ferry schedule.
On the day of the trip, proceed to Manila North Harbor Pier 4 at least four hours before the trip if you have cargo or checked baggage.


Present your ticket or proof of booking to be allowed to enter the terminal.


Pay the terminal fee and present it at the check in counter along with your ticket and valid ID.


Wait for boarding. When it's time to board, proceed to the ship and present your ticket to the staff. You will then be directed to your room/seat. Travel time to Iloilo from Manila is between 20 to 24 hours.


Upon arrival at Iloilo Port, you can take a jeepney, Grab or taxi to your destination.
---
By Bus
If for some reason you prefer to travel by bus without having to arrange or transact everything yourself, there are buses that can take you directly to Iloilo from various terminals in Manila. With this option, there is no need for you to transfer or book other transportations.
See below for the schedule and terminals.
---
DIY by Bus and Ferry
This option is for the adventurous ones as it requires multiple transfers.
From your origin in Manila, take a bus to Batangas Port. JAM Liner and Ceres Transport offer buses bound for Batangas from their terminals in Cubao, LRT Buendia and Parañaque Integrated Terminal Exchange (PITX). The first trip for JAM Liner departs as early as 1:00 AM while 6:00AM for Ceres Transport. Travel time is around 3 hours and the fare is not more than P400 per person.


At Batangas Port, take a boat to Caticlan. 2Go Travel offers one trip (9:00PM) from Batangas to Caticlan while Starlite Ferries has two trips – 7:30 AM and 6:00 PM. Travel time is around 11 hours and fare for regular passengers ranges from P1,300 to P5,300 depending on the type of accommodation and shipping company.


From Caticlan Port, take a Ceres bus to Ceres Terminal in Jaro, Iloilo. Travel time is around 6 hours and the fare is around P500.


From Ceres Terminal, you can take a jeepney, taxi or Grab to your destination in Iloilo.
---
Iloilo to Manila
To return to Manila, simply retrace your steps in the same way that you came. For more tips, see links below.
How To Get to Iloilo International Airport
Plane Schedule
---
---
---
---
Cebu Pacific Air and Philippine Airlines have multiple direct flights everyday from Manila to Iloilo. You can book direct through the airline's official website or book via third-party sites such as WayAway.
Travel time is about one hour and 30 minutes and the fare vary depending on the season and date of booking. To enjoy cheaper fares, watch out for airline promos especially during Philippine holidays such as Independence Day.
Book your Flight to Iloilo
Ferry Schedule
---
---
---
---
---
2Go Travel
As of now, only 2Go Travel ferries sail directly from Manila to Iloilo and vice versa. See schedule below.
Manila to Iloilo

Tuesday
11:00 AM
Friday
11:00 PM
Saturday
5:30 PM

Iloilo to Manila

Sunday
3:00 AM
7:00 PM
Friday
10:30 AM
The fare ranges from Php1,000 to Php7,000 depending on the ship/carrier, type of accommodation/seat and date of booking. You can book directly throughthe official website of 2Go Travel.
Bus Schedule
---
---
---
---
From PITX
Passengers from Parañaque and nearby areas can take a bus from Parañaque Integrated Terminal Exchange (PITX). Schedule is as follows
Alps Bus
Alps Bus recently reopened its PITX – Iloilo route. For schedule and bookings, inquire at booth 1, counter 4 & 5, 2nd floor of the terminal building. You can also contact their official Facebook page, Alps the Bus or mobile number +63 923 020 9510.
---
Ceres Liner
Manila to Iloilo

Daily
8:00 AM
10:00 AM
Fare
Php2,700
Main stops
Iloilo City
Sara
Estancia
Miag-ao Pototan
Will also pass by
Caticlan (Boracay)
Kalibo
Roxas City
Terminal
Booth 4, Counter 2, 2nd Floor of the terminal building
Contact Numbers
+63 916 790 7944
+63 917 466 7476
---
From Buendia
Manila to Iloilo

Bus Company

Schedule

Fare

Ceres Liner
Daily – 6:00 AM
Php2,200
---
From Starmall Alabang Terminal
Manila to Iloilo

Bus Company

Schedule

Fare

Alps Bus
Daily – 10:00 AM
Php2,700
Ceres Liner
Daily – 9:00 AM
Php2,700
---
From Iloilo Northbound Terminal
Iloilo Northbound Terminal (more known as Tagbak Terminal) along with Ceres Northbound Terminal is located in Brgy. Tagbak, Jaro, Iloilo City.
Iloilo to Manila

Bus Company
Schedule
Fare
Ceres Liner
Daily – 6:00 PM
Php2,797
We are constantly updating the information about the schedules and rates. Please comment down below or email us for any changes we may not be aware of. Thank you.
Where to Stay and Eat in Iloilo
---
---
---
---
If you are looking for a place to stay and eat in Iloilo, check out this list of Iloilo restaurants and Iloilo hotels or book below .
Published in September 2023.
How to Travel to Iloilo from Manila