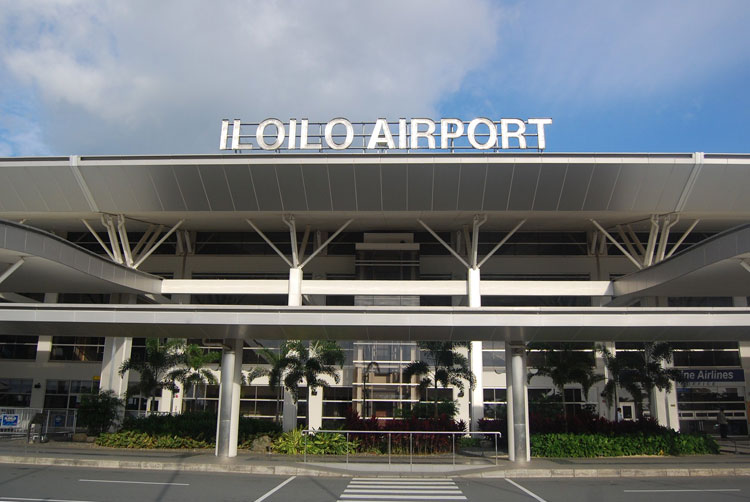 Iloilo International Airport serves Iloilo City and Iloilo Province as well as the neighboring province of Guimaras. It is the fourth busiest airport in the Philippines and the primary gateway into Western Visayas.
Basic Information About Iloilo International Airport
Airport Code:
IATA: ILO
ICAO: RPVI
Location:
Cabatuan, Iloilo | View map
Coordinates:
10°49′58″N 122°29′36″E
Contact Number:
(033) 320 8058
Website:
None
Business Hours:
The first flight from Iloilo is at 12:05 AM.
The last flight from Iloilo departs at 11:05 PM.
Restaurants:
Within the airport:
Bayani Café and Restaurant
Blossom Coffee Shop
Coffeebreak
Hot Hugz Cafe
JD Bakery Cafe
Koffieteria
Panaderia de Molo
Sky Go Café and Resto
Zooz Wooz Cafe

Nearby:
J-Boy Tinuom
Legayada's Native Restaurant
Tatoy's Seafood & Manokan
Shopping:
Duty Free Philippines
Merci Bakeshop

Bank/ATM:
BPI ATM
Arlines and Destinations
AirJuan
Cebu Pacific
Cagayan de Oro
Cebu
Clark
Davao
General Santos
Manila
Puerto Princesa
Hong Kong
Singapore
Philippine Airlines
Cagayan de Oro
Cebu
Davao
General Santos
Manila
Philippine AirAsia
Cagayan de Oro
Clark
Manila
Search flights to and hotels in Iloilo
How to Get to Iloilo International Airport
Iloilo International Airport is located 30 minutes away from Iloilo City. Here are the options on how to get to and from the airport.
UV Express Shuttle
The most popular way to travel to and from the airport is by UV Express Shuttle, popularly referred to by locals as van. The pick-up and drop-off point is at SM City Iloilo. Passengers can also ask to be dropped off at Jaro Plaza. From SM City to airport, the fare is Php 70 per person while the fare back to the city from the airport is Php 50.
The van departs SM City only when it is full so make sure to be there at least three hours before your flight.
Taxi
Taxi is the fastest and most convenient way to get to the airport. All cabs in Iloilo can be hired to get to the airport from anywhere in Iloilo City and vice-versa. The fare is usually fixed-rate which ranges from Php 350 – Php 400.
P2P Bus
P2P (point-to-point) bus is the newest option for airport transfer in Iloilo. It connects the airport to Iloilo Business Park (IBP) in Mandurriao and hotels in the city. The fare for IBP to airport and vice-versa is Php 80 while Php 200 for airport and hotel transfer.
The pick-up/drop-off point in IBP is at the Festive Mall terminal across the mall's main building. Meanwhile, the pick-up/drop off point at Iloilo International Airport is at the north end of the passenger terminal. From the arrival area, turn left and walk until the end of the passenger terminal building.
P2P Bus Schedule

From Iloilo Business Park

From Iloilo International Airport

4:15 AM
5:30 AM
6:40 AM
6:40 AM
7:50 AM
8:50 AM
10:00 AM
9:50 AM
11:00 AM
10:50 AM
12:00 PM
11:50 AM
1:00 PM
1:50 PM
3:00 PM
3:15 PM
4:25 PM
4:05 PM
5:15 PM
5:30 PM
6:40 PM
6:35 PM
8:00 PM
7:40 PM
9:00 PM
8:50 PM
9:55 PM
9:20 PM
10:20 PM
Jeep and Multicab
The cheapest way to get to Iloilo International Airport from Iloilo City is by commuting via jeep and multicab.
From Benigno Aquino Avenue (popularly called Diversion Road), ride a jeep bound for Calinog, Janiuay, Cabatuan, or Sta. Barbara. You can also find these jeepneys at the Ungka Terminal in Ungka, Jaro.
Get off the jeep at Bangga Dama, Sta. Barbara. You can't miss this intersection as this is where the Total Gas Station and Mercury Drug Store are located. head to the multicab terminal just across the street from Mercury Drug.
Take a multicab direct to Iloilo International Airport. Travel time to the airport is only 10 minutes but be sure to you have enough time as the multicab departs the terminal only when it is full or when the passengers are willing to pay the fare of the remaining vacant seats.
Iloilo International Airport