Iloilo used to be a sleepy city in the south. But in less than a decade, it has become what it is today – booming with high-rise buildings housing modern residential and commercial spaces. It has several large malls carrying both local and foreign brands. Restaurants of various cuisines can be found all over the city. Surely, there is something for everyone in Iloilo City – for professionals, businessmen, families, retirees and so much more.
Basic Information
Geographic Location
Iloilo City is 630 km. away from Manila. It is located in the southern shores of Panay Island. It is separated from Guimaras Island by Iloilo Strait.
Area
78.34 km²
Population
447,992
Known For
Dinagyang Festival, rich heritage
Industry
Management of port facilities, telecommunications infrastructure and utilities, banking and finance, retail trading, real estate, tourism and business process outsourcing.
Native Language
Hiligaynon, Karay-a
Zip Code
5000
Area Code
+63 (0)33
City Officials
Congressman:
Jam Jam Baronda

Mayor:
Jerry Treñas

Vice Mayor:
Jeffrey Ganzon

Councilors:
Love-Love Baronda
Armand Parcon
Roding Ganzon
Jay Trenas
Lex Candice Tupas
Ely Estante Jr
Romel Duron
Alan Zaldivar
Jojo Javellana
Lyndon Acap
Mandrie Malabor
Ed Peñaredondo

---
How To Get There
There are several ways to get to Iloilo City. The choice will largely depend on your schedule, budget and/or purpose.
By Airplane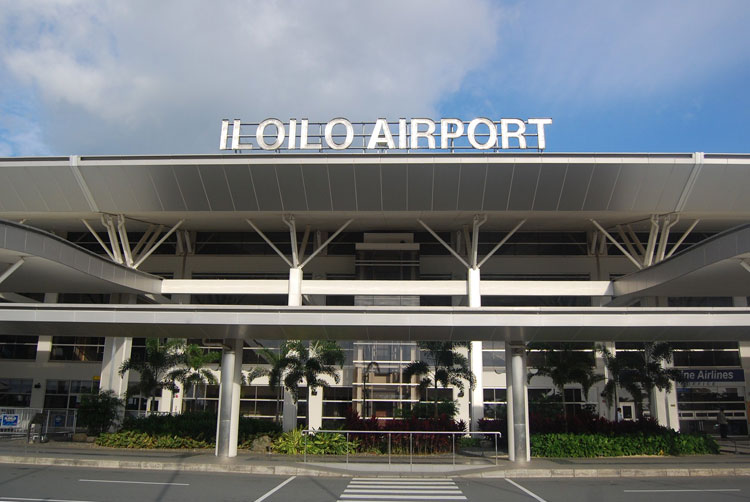 Photo Credit: George Parrilla
There are several flights from Manila and Cebu to Iloilo everyday via Cebu Pacific, Philippine Airlines and AirAsia. Cebu Pacific also serves flights from Davao, Puerto Princesa, Cagayan de Oro, Clark and General Santos however the schedule is not fixed, so make sure to check with the airline before finalizing your itinerary.
Travel time to and from Iloilo to and from other cities is approximately 1.5 hours.
For international flights, passengers from Hongkong and Singapore can fly directly to Iloilo via Cebu Pacific.
By Boat
2Go Travel has trips from Manila to Iloilo three times a week – Monday, Thursday and Sunday. On the other hand, the schedule for Iloilo to Manila trip is every Saturday and Wednesday. Travel time is approximately 27 hours.
2Go sails once a week from Iloilo to Bacolod City (vice versa) and Iloilo to Cagayan de Oro (vice versa). Approximate travel times are 4 and 14 hours respectively.
TransAsia sails from Cebu to Iloilo twice a week (Monday and Friday) and Iloilo to Cebu twice a week (Tuesday and Saturday). Travel time is approximately 12 hours.
Cokaliong sails from Cebu to Iloilo every Tuesday, Wednesday, Thursday and Saturday. The schedule for Iloilo to Cebu is every Wednesday, Thursday, Friday, and Sunday. Travel time is approximately 12 hours.
By Fastcraft
OceanJet, Weesam Express and SuperCat have multiple trips from Bacolod to Iloilo everyday. Fastcrafts depart around every hour from 6:00AM to 5:00PM.
---
Getting Around
Jeepney
Most of the attractions in Iloilo can be conveniently accessed through jeepneys. Minimum fare for city-loop jeepneys is Php 8/person. Jaro Liko and Jaro CPU jeepneys both pass by Jaro Cathedral and Belfry as well as St. Clement's Church in Lapaz, and Iloilo Museum and Provincial Capitol in city proper. When heading to Megaworld and Festive Walk Area, take a Mandurriao bound jeepney. The same route passes by SM City Iloilo, B Lifestyle Complex, Central Park, Plazuela Iloilo, Smallville Complex and Iloilo Esplanade. When in doubt, you can just ask the driver to be sure.
Taxi
You can hail a taxi almost anywhere and have it drop you to any spot in the city. You can also ask your hotel staff to call a taxi to pick you up from the hotel. Current flag down rate (start) is Php 40
and goes higher depending on your destination. When traveling within the city, know that it's always metered. Never agree on a fixed price even if you are traveling from city proper to whatever district you are heading to. Fixed pricing is only commonly used when traveling from the city to different towns in the province.
To save you from having to hail a taxi on the street, you can call one of the several taxi operators to send a unit to pick you up from your place of origin. Here are some of the biggest operators with their contact numbers:
GDR – (033) 321 1254
Light of Glory – (033) 320 5147
Quarry Taxi – (033) 501 0725
If you're from the hotel, you can ask the front desk to contact a taxi for you.
Private Car
If you are interested, you can rent a car to take you around. The cost of self-drive rental starts from P2,000 for 24 hours and can go higher depending on the type of car. For tour with a driver, rent starts at P3,500 for eight hours.
Motorcycle
To explore the city on two wheels, you can rent a motorcycle that is being offered by several businesses such as Iloilo Motorcycle Rentals in Jaro. You can also use third party booking such as book2wheel.com.
Bicycle
Iloilo is a bike-friendly city. The stretch of Benigno Aquino Avenue (also known as Diversion Road) has lanes designated for bikers and joggers.
Pedicab
Pedicabs are typically used in villages and minor streets but not in major highways.
---
Events and Festivals
Dinagyang Festival
Dinagyang is a religious and cultural festival in honor of Sto. Niño. It takes place every 4th Sunday of January, or the weekend after Sinulog Festival in Cebu and Ati-Atihan Festival in Kalibo, Aklan. The main event of this world-class festival is the Ati Tribe competition in which participants, referred to as warriors, dance to the loud drum beats and improvised percussion instruments. Warriors paint their skin black and don costumes made of indigenous materials.
While the main event is held in City Proper, the whole city of Iloilo joins in the celebration. Big malls, restaurants and other business establishments in Mandurriao district have their own gimmicks for anyone who wants to escape the large crowd in City Proper.
---
Districts
Iloilo City is divided into seven geographical districts:
City Proper – the commercial area and the political center of Iloilo City. Several of the establishments and buildings in City Proper are part of heritage as they've been standing for decades. Read | Iloilo City Proper Complete and Updated Guide
Arevalo – the westernmost district in Iloilo City. It is known for Villa Beach lined with several open air restaurants and bars. Locals also come to Arevalo when they need to buy firecrackers, fireworks as well as fresh flowers and potted plants. Read | Arevalo Complete and Updated Guide
Jaro – The largest of all districts, Jaro is a haven for Catholic devotees as it houses the Archdiocese of Jaro (Jaro Cathedral), one of the oldest sees in the country. Jaro is a symbol of prominence as several well-to-do Spanish-Filipino families are from this district. Read | Jaro Iloilo City Complete and Updated Guide
La Paz – La Paz, which translates to "peace" in Spanish is the place of origin of La Paz batchoy.
Lapuz – It houses the Iloilo River Port Complex (IRPC).
Mandurriao – This is the newest commercial and leisure area in the city where nightlife, restaurants, biggest hotels and newest malls are found. Read | Mandurriao Iloilo City Complete and Updated Guide
Molo – This district used to be the parian of Iloilo, or an area where the Chinese must live during the Spanish era. It is the home of pancit molo and Molo Church, a UNESCO World Heritage Site. Read | Molo Iloilo City Complete and Updated Guide
Iloilo City Complete and Updated Guide