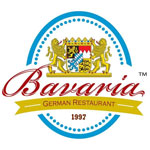 Address:
     113 Seminario St., Jaro, Iloilo City
Contact Number:
     (033) 329 0078
Email:
      andy_stummer@yahoo.com
Facebook Page:
     Bavaria German Restaurant Iloilo
Business Hours:
     Monday to Sunday – 09:00 AM to 07:00 PM
See more restaurants in Iloilo.
About
Our rustic restaurant "BAVARIA", located at the ground floor of the Nagarao Pension House in Iloilo City, offers typical German, continental and Filipino dishes. Its decoration is inspired by Bavaria, the famous German province, home of the Oktoberfest and the castle of Neuschwanstein built by King Ludwig II. The bar is staffed with a wide range of local and imported drinks, including excellent Weizenbier, a yeasty wheat beer from Germany.
German food can vary by province, but there is also a national cuisine which has resulted from centuries of cultivation and change. This is a very brief tour of German cuisine, a very "meat and potatoes" type of cuisine.
Pork is the most popular meat in Germany. Beef and poultry are the other main meats in German cuisine. Chicken is the most common poultry, but duck, turkey and goose are also popular, especially for special occasions. Meat can usually be found pot roasted.
A popular dish, known as Sauerbraten, marinates venison or beef in a vinegar mixture over several days; hence, the sour
(sauer) taste. Sausage (Wurst) is a traditional meat in Germany. There are over 1500 types of sausage in Germany alone! The most popular is Bratwurst, made of spices and ground pork. Blutwurst or Schwartzwurst are made from blood.
Some common side dishes are noodles (Spätzle are most popular) and Maultaschen, which are like ravioli. Other common side dishes are potatoes boiled in salt water, mashed potatoes and fried potatoes, which are commonly served with ketchup or mayonnaise (or both!). Dumplings are especially popular in southern Germany.
Vegetables can be found in German cuisine either in stews, soups or as side dishes. Popular vegetables are potatoes, carrots, spinach, asparagus (Spargel), turnips, peas, cabbage and broccoli.
Bread (Brot) is a staple to any German diet. There are approximately 600 types of bread and 1200 types of rolls and pastries! The most popular German breads are rye-wheat (51 to 89% rye flour), toasted, whole grain and wheat-rye (51-89% wheat flour).
Don't forget the BIER!
Map
Reviews
Bavaria German Restaurant Iloilo